The farmers market is a great place to find the freshest and most delicious produce, but it can also be a bit of a budget-buster. Eating fresh, local ingredients doesn't have to break the bank, however! Here are some tips for stretching your farmers market budget and enjoying the bounty of foods available this time of year.
Shop in Season for Big Savings
Produce that is in season is almost always cheaper than those foods that need to be imported or grown in greenhouses. When at the market, look for foods that are plentiful and ripe. As well, these foods will have the best flavor. Ask farmers and vendors which foods are in season and which they recommend. They often know lots of helpful tricks, such as which fruits to avoid buying until they ripen at home.
In addition to saving money, shopping in season is also a great way to support local farmers and businesses. Buying local produce helps to reduce the environmental impact of transportation and packaging, and it also helps to keep money in the local economy. Plus, you can often find unique varieties of fruits and vegetables that you won't find in the grocery store.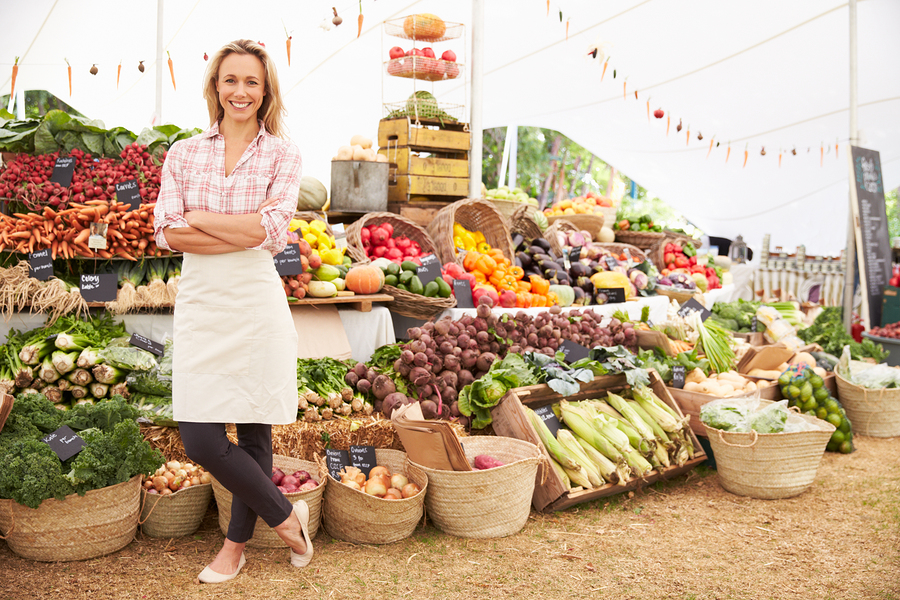 Plan Ahead and Bring a List
Before you go to the market, take a look at what meal ideas you have planned for the week. This will help you know exactly how much product you will need, and what type of ingredients you need. Making a list is also a great way to avoid impulse buying. When you don't buy more than you need, you won't have to worry about your food spoiling or going bad before you can use it. This saves you money in the long run.
Additionally, it's a good idea to check the store's website or app for any sales or coupons that you can use. This can help you save even more money on your grocery bill. You can also look for recipes that use ingredients that are on sale, so you can get the most out of your grocery budget.
Buy in Bulk or Split with Friends
Buying in bulk when possible can also be a great way to save cash. Many vendors will offer discounts when a certain quantity or volume of produce is purchased. If you don't think you'll use all of it, you can split the cost with some friends and get the savings without having to eat it all. Some stores also offer CSA (Community Supported Agriculture) programs that allow customers to purchase a share of the crop, which is then delivered regularly.
When buying in bulk, it's important to consider the shelf life of the produce. Some items may not last as long as others, so it's important to plan ahead and use the items before they go bad. Additionally, it's important to make sure you have enough storage space for the items you purchase. If you don't have enough room, you may need to find a friend or family member who can help store the items until you're ready to use them.
Take Advantage of Specials and Deals
Reach out to the market vendors to get on their mailing lists. Often they will send out weekly or monthly specials and deals that they are offering. These can include discounts on bulk purchases, free samples, or even free delivery in certain areas. Taking advantage of these specials can save you money on your regular purchases.
It's also a good idea to ask the vendors about any loyalty programs they may have. Many vendors offer discounts or rewards for customers who make regular purchases. These loyalty programs can be a great way to save money and get access to exclusive deals.
Seek Out Local Growers
Local growers often have the lowest prices because they don't have to pay for transportation, packaging, and storage. Ask around to see who grows and sells locally; it will be worth the effort. Many smaller farms and local markets offer farm-to-table partnerships in which customers can pick up fresh produce from their own yards and gardens. This eliminates the costs associated with shipping and stocking, and can often be cheaper than buying from a grocery store.
In addition to saving money, buying from local growers also helps to support the local economy. By purchasing from local farmers, you are helping to create jobs and stimulate the local economy. Plus, you can be sure that the product you are buying is fresh and of the highest quality. Local growers often use sustainable farming practices, which help to protect the environment and ensure that the food you are eating is healthy and nutritious.
Ask Questions to Learn About Storage and Preparation Tips
Asking questions is key when shopping at a farmers market so that you know how to properly store and prepare your produce. Farmers and vendors are great sources of information about storage techniques for each type of food, as well as recommended preparation tips, such as which fruits need to be peeled and which vegetables need to be cooked before eating. Talking with them can also reveal ways to enjoy fruits and vegetables, such as making jams or pickles.
It is also important to ask questions about the freshness of the produce. Farmers and vendors can provide information about when the produce was harvested and how long it has been stored. This can help you determine if the product is still fresh and safe to eat. Additionally, asking questions can help you learn about the different varieties of fruits and vegetables available, as well as the best season to buy them.
Make the Most of Your Farmers Market Budget
No matter what your budget is, there are ways to still enjoy fresh produce from a farmer's market without breaking the bank. Even if you don't buy in bulk, you can still find deals on single items by shopping around. Look for vendors who offer bundles or discounts on items that they have in surplus; these can offer significant savings over buying individual items.
Cook with What You Have On Hand
Once you've bought your product, make sure you use it! Plan meals around what you already have instead of making multiple trips back to the market during the week. This not only helps prevent food waste but also helps you save money in the long run by cutting back on unnecessary trips. Research recipes that use the ingredients that you have on hand, or try your hand at improvising with culinary skills you may have.
Don't be Afraid to Bargain
Lastly, don't be afraid to bargain when shopping at a farmer's market. Many vendors are happy to lower prices for customers who are willing to buy multiple items or buy in bulk. It never hurts to ask a vendor for a discount or haggle over prices; chances are they're willing to come down a little bit. Obviously, haggling doesn't work with every vendor, so be sure to establish some ground rules before negotiating.
Eating fresh and saving cash doesn't have to be a challenge – following these tips can help you make the most of your farmers market budget while still enjoying all of nature's bounty this season!